List of Content
How to Install ExpressVPN on FireStick

Are you looking to protect yourself and stay safe online? Then a VPN is what you need; as people spend more time on the internet, they are becoming more aware of the dangers out there.
Using a VPN has a bunch of perks when it comes to security, but they are now accommodating more leisure activities like the ability to stream from anywhere.
Do you want to get more from your Amazon FireStick? Consider adding ExpressVPN on FireStick, as you will gain access to content you couldn't see before while staying secure at the same time.
Before we get into the step-by-step guide on how to install ExpressVPN on FireStick, let's go through what a VPN is?
What Is a FireStick?
Amazon is entering the streaming world in different ways, they have their streaming platform, Amazon Prime, and now the new big thing is their streaming video player, the Amazon Fire TV Stick.
The portable device, Fire TV Stick, is made to look like a USB flash drive, though a little oversized, and you can plug it in directly into the TV through the HDMI input. This stick has the ability to turn any television into a Smart TV, which allows you to watch thousands of different movies and TV shows.
The Fire TV stick has its advantages as it is free to use and set up. And you could download about every app out there for free. However, it does not provide free entry to streaming platforms like Hulu, Netflix, and Youtube; you will need to buy a separate subscription to gain access to those platforms.
This Amazon device could be bought in two versions; the basic version or the 4K version. They both carry similar features, and you will be able to download similar apps, but the 4K offers a higher resolution.
A VPN, Virtual Private Network, is a service that encrypts all your internet traffic and hides your online identity. Thus, making it harder for anyone prying on our information to track down your online activities and collect or steal your data. All encryptions happen in real-time while you are connected.
VPNs have become popular, but not for the reason they were initially created for. In the beginning, VPNs were used only by businesses as a way to connect to a company's networks securely and the ability to access work data from anywhere.
A VPN can be used for:
Stream on platforms that have regional restrictions like Netflix.
Protect yourself while torrenting.
Spoof your physical location.
Bypass geographical restrictions on websites.
Gain anonymity online.
Protect yourself from untrusted public networks.
Stop third parties from snooping around your data
Can I go for a free VPN?
You can always find a free VPN service, but if you are thinking of using a free VPN to access geo-restricted streaming platforms, especially on Amazon, think again, as most of these services do not perform well when it comes to streaming.
Free VPNs cannot access these platforms for several reasons:
They usually have a cap on how much data can be transferred in a specific time frame.
They have limited server locations.
They tend to be slow.
Streaming services put in a lot of money to block VPNs from accessing their geo-restricted content, so only specific VPNs with paid services are able to do the job.
To be frank, these restrictions are there for a reason, and it's to stop you from accessing their content. So it would be best if you had a reliable VPN to break through those restrictions. ExpressVPN on FireStick could do this for you.
ExpressVPN is a major competitor in the VPN market. It is one the safest and fastest services around, but their prices have always been what makes users hesitate at first. To fix this, they are constantly offering discounts that make their prices affordable.
That being said, the high price is there for a reason as it is worth it with all the features they offer. Here is a quick overview of Express VPN:
Speed: Usually, with a VPN, it plunges your internet speed when a far-away server is connected. This doesn't happen with ExpressVPN; no other VPN can outperform it, especially when it comes to connecting to long-distance servers.
Servers: ExpressVPN has over 3,000 servers distributed in 90 countries, so if you are looking for a close server to get the fastest speed possible, you are in luck here as there is usually one near you.
Advance security feature: They take their security as seriously as they take their speed. To keep you safe, they use military-grade encryption and a variety of security protocols. They also have a kill switch, split tunneling, leak protection, servers operating on RAM disks, and a no-log policy.
Support a wide range of devices: ExpressVPN is available on Mac, Windows, Android, iOS, Linux, and routers. Their performance remains consistent throughout the different operating systems. In addition, they are user-friendly and packed with different features.
Prices: They are a little pricier than other VPNs, but it is more affordable if you opt for their longer subscription.
Watch geo-restricted content from the comfort of your home
When you sign-up for a streaming platform, there is no guarantee that you will access all of the content they have to offer because of geo-restrictions. For example, when a company like Netflix purchases the copyrights of any production or the license, they often do not buy it for every country, so they are restricted to the regions where they bought the copyright.
So geo-blocking is when content providers block shows and movies in different regions. Therefore depending on a user's location, they could either get denied or gain access to them, and the only way to access it would be through a VPN.
Many VPNs cannot get through streaming services firewall, but this is not the case with ExpressVPN as it gives you the ability to access most geo-restricted platforms.
Remember that it is against the terms and conditions of these streaming companies to use a VPN, but there has been no evidence of a user getting suspended or stopped because of it.
BBC iPlayer, Hulu, Netflix, YouTube, Disney+, and Amazon Prime are all streaming services with restrictions, and FireStick comes jammed with all these applications. So to maximize the content you can reach, go for a VPN.
Latest Offer 35% Off On Your Purchase!
Watch All Your Favorite Shows Abroad
Similar to how you can access a variety of blocked content from your home, you can use a VPN to bypass restrictions when you are abroad.
You are finally going to live abroad. Only one problem, you won't be able to watch your favorite shows overseas because the content you were watching is geo-restricted.
You can use a VPN to spoof your location and trick it into believing that your FireStick is back home. All you have to do is pick the right server, and you will be able to access all the same shows you had back in your home country. So installing Express VPN for FireStick makes it ideal for those nights when you feel homesick.
Maximize Your Privacy and Security
Using your home network does not put you at the same level of risk as using a public network. However, this does not mean you are in the clear as there are third parties that collect your data; even your internet provider could collect and sell your information.
If you are constantly on the go and your Fire Stick tags along everywhere you go, using a VPN can ensure you are safe and secure.
When you connect to a random network like those at a hotel, you are at risk. There is always a chance someone could be lurking around tracking and even hacking into random users' devices, including FireSticks. So by using a VPN, you are able to protect yourself from cyber-attacks.
They are User Friendly
VPNs contain complex functions with military-grade encryptions that are hard to break, but this doesn't mean the VPN app is hard to use. Developers know that we need the functions broken down for us and made easy to use for us regular folks. VPN services like Express VPN have a dedicated Amazon Fire TV app that makes connecting the two easy.
All you have to do is go to the Amazon Appstore with your FireStick and download the app ExpressVPN supports.
VPNs are Legal (Most of the Time)
Each country has different laws, and VPNs are legal in the majority of countries around the world. But there are countries like China that allow the usage of a VPN, with restrictions. So it would be best if you always go through the countries laws and policies on VPNs before using one.
Even though it is legal, this does not mean that you can commit a criminal offense even in countries with no rules against using a VPN.
Watching geo-restricted content is one thing, but using it to download pirated content could put you on the wrong side of the law.
Some platforms have policies against using a VPN on their streaming platform, but no actions have been taken against anyone so far.
Like I said earlier, setting up Express VPN Amazon Fire TV is easy and shouldn't take you more than five minutes to get it up and going.
Express VPN for Firestick is a feature that is already available on Amazon Fire TV. So all you have to do is:
1. Subscribe to ExpressVPN.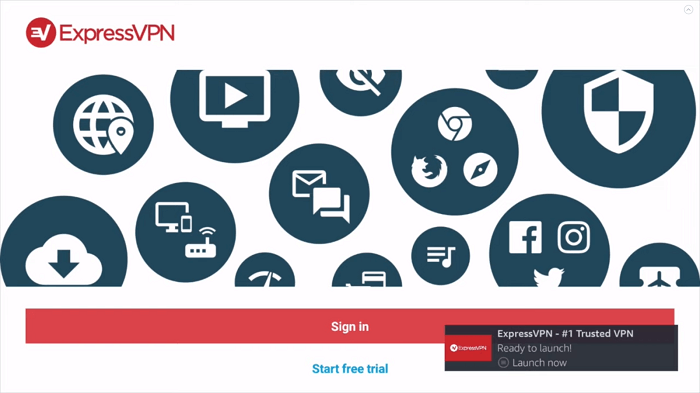 2. Go to Fire Stick home.
3. Go to the search icon located at the top of the page on the left, and type in "ExpressVPN."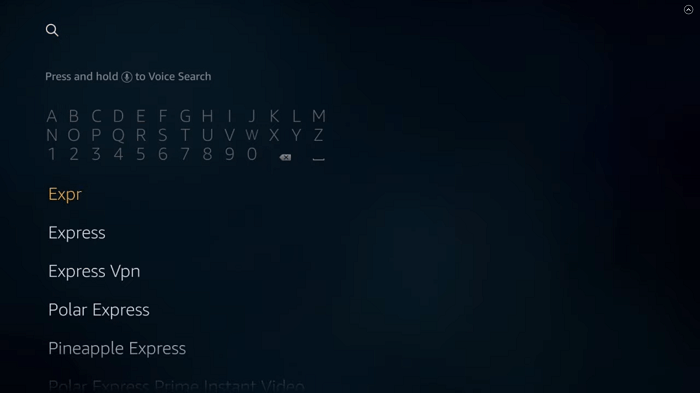 4. Click on ExpressVPN, and press "Download."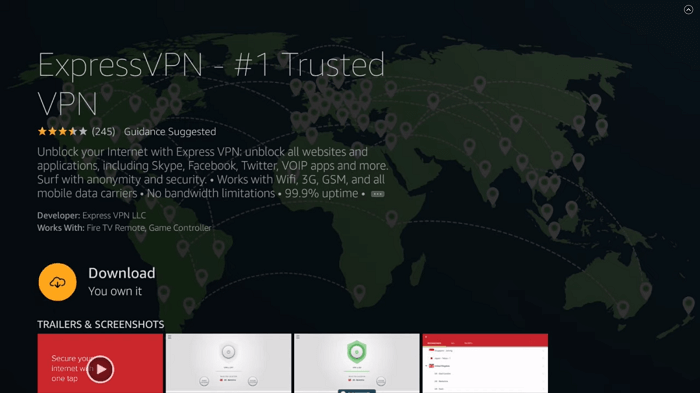 5. After the download is complete open the app.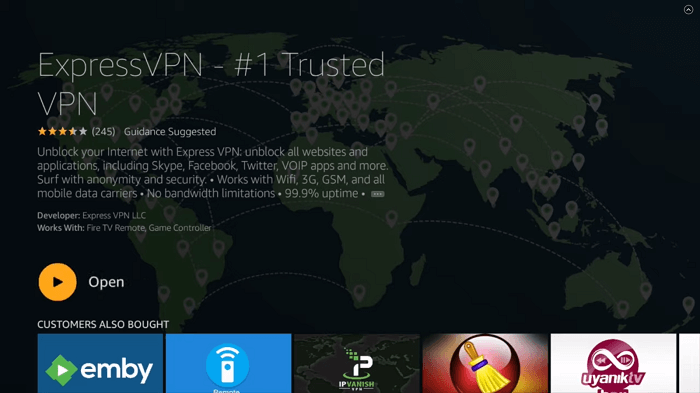 After completing these five easy steps, Express VPN is now available on your Fire Stick.
Latest Offer 35% Off On Your Purchase!
1. Login with your ExpressVPN credentials.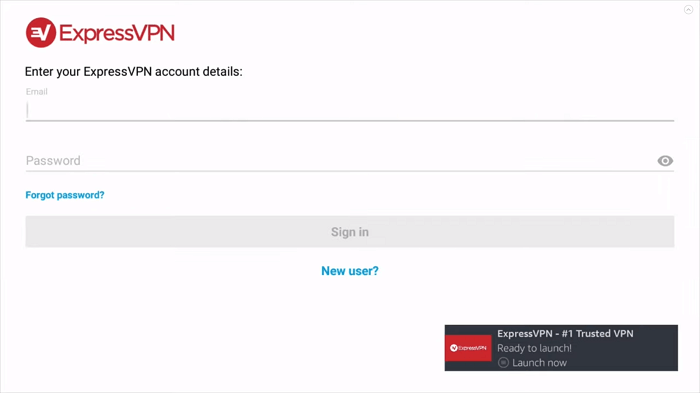 2. Select "Ok" so the VPN can configure.
3.ExpressVPNs interface will pop up.
4. Tap on the start button and choose the server you want.
Remember to always stay safe on the internet.
Are there free VPNs?
There are free VPNs out there, but you will have to go for a paid subscription if you are specifically looking for one to stream with. The reason behind this is free VPNs offers limited features; they have a limit on data transfer, limited server locations, and they do not possess the required speed for streaming.
IS ExpressVPN avialble on Amazon FireStick?
Yes, there is an app available for ExpressVPN on Amazon Fire TV. All you have to do is go to the search icon and download the app.
Is ExpressVPN Free?
ExpressVPN only offers premium VPN services. They currently carry three standard subscription plans. The one-month plan runs for $12.95, the six-month plan for $9.99 per month, and the 12-month plan that goes for $8.32.
They offer discounts throughout the year and have a free trial on specific devices. In addition, all plans come with a 30-day-money-back guarantee with no questions asked if you decide to cancel. This deal gives you access to all the features ExpressVPN has to give.