List of Content
How to Start a Blog in 30 Minutes: The 2023 Guide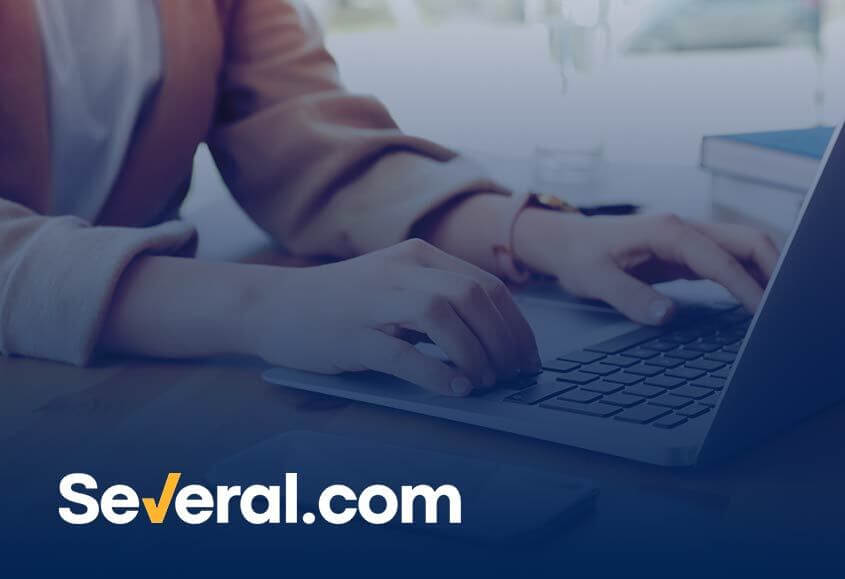 Are you looking for a simple, quick guide on how to start a blog or a website?
You're in the right place!
Our tech team at Several.com has worked along with our writers to come up with this incredible product; a simple, straight-to-the-point, step-by-step guide. This guide will teach you how to create your own personal blog; by the end of this article, you will be publishing your first blog post!
You're probably wondering if you have to have technical or website development skills or if it would cost you a lot of money to start your own blog. Well, NO! Some basic computer skills and a few dollars on top will do!

Quick facts about blogs and blogging:
1. You don't need to have an IT background or any prior technical knowledge or designing skills.
2. You don't have to purchase any IT equipment; all you need is your computer.
3. You don't have to spend lots of money; $3 and a good spirit as a start will definitely do.
Start Blogging for $2.59
with DreamHost's Special Offer.
4. Having a blog isn't a full-time job, and it won't take 24/7 of your time. In fact, you can think of it as a hobby.
5. You can make money with your blog very easily; the better content you write, the more money you get.
Start Blogging with DreamHost for $2.59

Whether you're an expert or a beginner, this guide is for you; it illustrates the easiest way to start your own blog in less than 30 minutes!

Quick Summary on "How to start your blog" [Click Here to Jump to the Full Guide]
Step 1:
The Idea: What is the idea behind your blog? What is the theme? And what would you call it?
Step 2:
Go Online: Spend less than $3 with our
DreamHost Promotion
, register your blog online, start customizing your blog and writing content.
Step 3:
Promote your blog and start making money: Tell your friends and your online social network about your blog as a start to get honest feedback.

You're probably thinking, if it's that simple, then why doesn't everyone start their own blog?
Actually, EVERYONE is starting their own blog recently!
The 2020 Blogging Statistics and Facts from OptinMonster reported that there had been more than 500 million blogs on the internet by 2020, and the number has only been growing.
That's not all; the statistics also show that more than 400 million readers view more than 20 billion different pages every month. In addition to that, about 70 million posts are being published every month by WordPress users.
Crazy numbers, right?
Are you curious about the huge number of blogs, and the reason why everyone is starting their own blog? We're getting into that.

There are a few reasons to start a blog today
1.Share your story
Write your story, your personal thoughts, and discuss the topics that interest you. This type of blog has to be one of the most common among all. Here, you can create your own personal space where you can talk about the things that interest you, freely, and without having to abide by anyone's rules. You can later share it with your friends, and if they like it, they will share it with their circle of friends. It's a great way to have your voice heard widely and quickly.
One of our favorite blogs of this kind is a blog called "We The Parents," where rather than getting the Mom's side of the story or the Dad's opinion on a certain topic, you get both sides of the parenting story.
How simple and cute, right? This cute simple idea, which was turned into a blog, has hundreds of thousands of visitors every year.

2. Easy Extra Cash
Making money from home, That's the dream, right? I mean, forget about working from home for social distancing purposes; we mean making extra cash from the comfort of your couch, or even bed.
If you're an above-average writer, blogging can be a good source of money for you. Famous bloggers earn millions of dollars, and their blogs grow into big companies operated by employees from all around the globe.
Arianna Huffington, a Greek lady who studied economics in the UK, started her own blog a few years ago. And now it's one of the biggest commentary outlets, blogs, and news aggregators globally. Of course, we are talking about HuffPost (formerly The Huffington Post). Arianna eventually sold her share in the Huffington Post for $315 million a few years ago.
Let's not get carried away and start shooting too high! A part-time blogger or someone who blogs as a hobby can expect to make a respectful profit. Based on Financial Samura, Millennial Money, and The Money Habit, with 1,000 page views a month; you can make between $10-$100 per month. And if your content is interesting enough, you can get 100,000 page views a month. This way, you can easily make between $1,000 and $10,000 off your blog per month.
All you have to do is spend just a few hours a week writing a piece of content that you think is interesting, and then…. [We will discuss later in this article how to make your first $10 from your blog].

3. Promoting your company or your business ideas
Get the praise you deserve for yourself or your business and promote your business vision to others. A Good blog can turn your ideas into a reality and bring you your deserved recognition in your respective field; many bloggers are known as experts in their fields merely because of their blogs.
When Pete Cashmore launched Mashable in 2005, the blog focused on digital media, and it became the go-to website for anything related to that.

4. Building A Community
Blogging can help build/find an online community that shares the same values and norms as you. With everything rapidly changing and moving online, a community is no longer a group of people living in the same place but the ones who share common interests and values.
Identify key stakeholders for your online community, define your community's purpose and goals, and promote your community to others. Nothing beats talking to people who share the same values and mindset, right?

What Exactly Is A Blog?
A blog is a type of website built mainly on written content, also known as blog posts. A blog can be about any topic imaginable; the sky is the limit. Unlike news outlets and commercial websites, bloggers often write their personal opinions about a certain topic, which allows them to connect directly with their readers.

This direct connection to the reader facilitates and attracts the readers to interact and share ideas with the blogger. With people tending to move from paperback books to eBooks and from physical book clubs to virtual ones, it's becoming clearer and clearer that it's the right time to start your own blog!
Start Blogging with DreamHost for $2.59

The Ultimate Guide On How to Start a Blog in a few easy steps in 2021:

Step 1: The Idea
The first step in your blogging journey starts with the topic selection, which is the most important step of building a popular and effective blog.

Don't make the mistake of choosing a topic that you're not comfortable with, because you will be responsible for producing the blog content. Make sure that the blog topic interests you enough to write about it without having to stress.

One of the common mistakes while choosing the right blog topic is choosing a certain topic because you see others making money out of it. Also, don't choose a blog topic that you know little about or don't have any practical experience.

For example, Tech blogs are very popular, but if this isn't your field of interest (or knowledge), don't start a blog about Technology. You will get stuck after few articles, and your content will just be repetitive content that you found while researching online.
Start Your Blog Now and Save %68

One last tip about choosing the right blog topic: Try to make it as specific as possible. Try not to write about several subjects in one place as a start. For example, a blog about classic cars should not contain cooking recipes or video games, even if you're interested in these topics and think you can deliver good content.
Are you still having a hard time choosing what the right blog topic is for you? Ask yourself the following questions, and you will get your answer.
What is the thing I can never get tired of talking about?
What is the thing that I won't be bored reading about, and won't be bored while discussing with other people?
If I told you that you could succeed in any career you choose, what would it be?
Try answering these questions about yourself; I'd bet you dollars to doughnuts that you will definitely find a topic that you're very interested in and confident about.
Here are few examples of blog topics (there are thousands of topics out there, don't limit yourself to the below list, it's just a few examples to get you started):
| | | |
| --- | --- | --- |
| Politics | Comedy | Traveling |
| Sports | Movies | History |
| Food | Parenting | Memes |
| How-to guides | Plans | Technology |
| Personal stories | Environment | Infographics |

And the list goes on…
Now, the last part of the first step is choosing a "cool" name for your blog. Let me tell you something. Blogs are like books; a lot of people judge them by their covers and their names.
I personally bought several books because I liked the title, such as "What I Talk About When I Talk About Running (by Haruki Murakami)" and "Everything Is F***ed: A Book about Hope (by Mark Manson)."
And the same thing happened to me while surfing the internet. I stumbled across several blogs with names that interested me, so I started surfing these blogs; I liked the content, and now, they are on my daily readings list (TreeHugger, I Can Has Cheezburger? Mr. Money Mustache).
To have a name that stands out for your blog, follow these steps:
Research your topic: Should the name be funny, smart, weird, or elegant?

Think about your readers and what they are interested in. If you are creating a blog about technology, would it make sense to call it "Adam's Journal, "or would it be better if you called it "TechMeHome"?

Use a name generator: Many websites will help you generate your name. But we advise you to use the blog name generator to get inspired and then choose a suitable, unique, name for yourself.

Step 2: Go Online!
This is the scary part for most people, but actually, it shouldn't be. It will literally take you a few minutes. The hardest part was the first part of brainstorming for the blog Idea and name.
Now to go online, you have to follow a few steps that will cost you less than $5. In this part, we will walk you right through the process and make it as simple as possible.
Start Blogging with DreamHost for $2.59
To launch your blog and go online, you only need two things: Blog Hosting (Web Hosting) and Blogging software. We will be showing you how to get them both from the same place in this guide.
To begin with, a blog host (web host) is a company that stores all your blog files and delivers them to the user when they type in your blog name/address. Therefore, you must have a blog host in order to have a blog.
That being said, you also need to have blogging software to build your blog and add your content. This guide will demonstrate how to build a blog using WordPress blogging software, which is the most popular, creative, and simple blogging software on the market. We recommend DreamHost.
Going back to the web host, on several.com, we use DreamHost for web hosting, and we recommend it for all of our readers, especially the new bloggers, and that's for many reasons.
Short on time? These are the main reasons why we recommend DreamHost:

1. It offers a free Domain and a free SSL certificate (to keep your website safe and secure) are included in every package.
2. It offers a free and automatic installation of WordPress (Blogging-Software).
3. It offers a 97-day money-back guarantee (the longest money-back guarantee in the market).
4. DreamHost is the most reliable web hosting company globally, and they are the number one destination for any blogger (they host millions of blogs).

All of the above will cost you $2.59/month, which is next to nothing compared to the quality of their services. Yes, you might find cheap $1/month hosting companies or start-ups, but they are not %100 reliable, and you might not find the simplicity and reliability you're looking for in them.
This is why we recommend DreamHost; it's one of the cheapest and easiest ways to start your own blog in few minutes. DreamHost is a very popular and reliable choice for both beginners and experts. The first two steps of how to start a blog are now over.
So, let's get started with
How to Get Your Blog Online 2021 guide
1. Visit DreamHost
Go to the DreamHost Plans. Then click the blue "Sign Up Now" button.
For small or new sites, choose the Shared Starter Option, it might lack a few advanced features, but you can add them later if or when you need them.
2. Select your hosting package
At this point, it's time to select an account plan from the available options. DreamHost offers monthly, yearly, and 36-month packages.
With the monthly package, you will have to pay a lower amount up front, but you will get a much better deal with the other two packages if you are ready for a longer-term commitment.

You have to note that the free domain option comes with yearly and 36-month packages. However, for the monthly package, you will be charged around $10 for registering a new domain (recurring charge).

It's much cheaper and easier to sign up for the 36-month packages, as it will cost you almost half of what you're going to pay when signing up in the monthly package, and it comes with a free domain for the first year. After a few months, if you did not enjoy your blogging experience, you get all your money back with DreamHost's 97-day money-back guarantee. This way, you can try this package for more than 3 months risk-free.

Good News!
DreamHost offers a 97-day money-back guarantee.
Start now
risk-free!
3. Add Your Credit/Debit Card
After choosing your preferable plan, add your credit card. You won't pay anything yet at this step.
4. Create a DreamHost Account
We are almost done! The next step is to create your account with DreamHost. Fill in all the account setup required fields. And choose the Pre-install WordPress Additional option (Free of Charge).

Now to the last step, scroll down on the same page, and click submit order.
Within a few seconds, you will get a confirmation message. Your order is completed. Welcome to DreamHost. You're now officially a website owner!
Now choose a powerful password for your account. And then click "Continue to Your Control Panel".

Once you create your password, you will be automatically redirected to your DreamHost Web Panel. You should get a message telling you that DreamHost is setting up your hosting service.

Building Your Blog/Website Using A Site Builder, "WordPress"
Once the setup has been completed successfully, it is time to apply the steps you have learned on how to start a blog; log in to WordPress. Thanks to DreamHost, you are getting this great website builder tool for free.
1. Log In to WordPress
On your DreamHost account home page, choose "Log In to WordPress".
2. Getting Started
The first time you visit your WordPress website dashboard after enabling WP Site Builder, you'll be greeted by a "getting started" wizard. You'll need to select the "Let's Get Started!" button to begin using the builder.

3. Choose your Template/Design
You can start by choosing a theme for your website from a diverse menu of categories.
4. Choosing the Pre-set Page
Once you select the best one for your website, you'll have some choices about what pre-set page options you want to start with. Our experts advise you to start with the "Base" option if you're a beginner. Whatever you choose in this stage can be easily modified later on when needed.
5. Website Information
Next, the site builder has an optional form to fill out the information about your website. This data is used to automatically populate certain areas of your site and can be edited later if you need to change something.

When you're done, you need to select "Finish and Install" to complete the setup process.

Creating Your First Blog Post
The dashboard in the below image is your website/blog control panel. You can use it to add posts, images, and new web pages. You can also change the theme and designs of your website and add/remove plugins.

Now let's move to the most fun part: ADDING YOUR FIRST BLOG POST! Go to your dashboard. Hover over "Posts" and then choose "Add New".

As shown in the image below, choose a title, write your body text, and add an image.

Once you're done, click "Publish".

Congratulations, you have published your first blog post!

As we are done with all the steps of how to start a blog, including theoretical and practical steps, and now that you have finally published your first content page, you need to move to the next step; you have to check your website pages, see what you would like to change, and what pages you would like to add.
After you're done and satisfied with the structure of your new blog, move to the 3rd and final step.
Start Blogging with DreamHost for $2.59

The 3rd Step: Promote your blog and start making money
Share your blog with your friends and your online social network as a start to get feedback from them. Get honest feedback from a few people, and make the necessary changes.
After you're confident about your blog's design and content, write down a few interesting headlines and titles. Make sure your blog is so interesting that no one can resist clicking it. Promote your articles on social media platforms with paid promotion and make people want to share them and react to them.
You might need to promote some of your interesting articles with $50 or $100 as a start, but this is to get your blog out there and to start building a good customer base.

How to make money from your Blog?
Once you have put in the effort to create great blog content and promote your blog, making money from your blog is actually easy.
Blogs have the potential to be extremely rewarding, but don't assume that you're going to start making money in the first few days. On average, it could take up to six months to start seeing some profit. Blogging takes time and effort to be well-established, but once you have a good number of readers and visitors, there are several ways you can generate money from your blog.
Once you have a popular blog and a good number of visitors, you will have an opportunity to sell advertising spaces. The best way to do that is to utilize Google AdSense; all you have to do is place the Google AdSense code on your blog to start running ads on your blog.
You can start promoting products and services and taking commissions whenever your visitors make a purchase. When one of your blog visitors clicks on the affiliate link on your blog, they get sent to an advertiser's site, and you earn a commission if they make a purchase.
Sell your own products or services
Selling your own products and services on your blog is a great way to increase your income dramatically. As your blog popularity and number of visitors increase with time, your products and services will begin to sell themselves. Use the sidebar menus of your blog to increase the visibility of what you sell using product images and links to your store.
Start Blogging with DreamHost for $2.59
Now that you know everything about how to start a blog, nothing is holding you back anymore; give your ideas and thoughts their well-deserved recognition.