List of Content
How to Claim Your FREE NordVPN Trial

If you've been using a free VPN or decided it is time to secure your internet traffic, then a free NordVPN trial is a great start.
NordVPN is currently one of the fastest and safest VPN service providers in the world. It's a service that offers a little bit of everything. They have loads of unique features and tools, kill switch, supports multiple devices, military-grade subscription, and much more.
If you look through the App Store, over 10 million users have downloaded the app rating their service as 4.3 out of 5, and over 459,000 reviews. So again, this is a testimony of how NordVPN is a major player in this field.
It can easily do what other VPNs fail to provide, like streaming. Another plus is the variety of devices that can install the app; they support iOS, Android, Windows Phone, and BlackBerry.
If this impressive intro hasn't motivated you enough to try their service, check out the other perks:
Using any VPN will affect your web browsing speed; the question goes down to how slow?
It would be best if you kept in mind that it is not easy to determine precisely how fast a VPN is because of the different variables. For starters, the speed of VPN, Virtual Private Network, can change on a daily basis. There is also the impact of internet speeds across the world, which fluctuates depending on your country's internet infrastructure. Then the little details like your computer's general performance and the network's interface.
VPN services do have control over other factors, and these features are what make them distinct from one another. For example, the protocol used, the number of servers, and how distributed these servers are.
On Average, the speed loss for NordVPN is 53%, this is a regular occurrence for VPNs as they usually do cut your speed by half or more.
Number of Servers
The number of servers a VPN service owns determines how fast your internet browsing is. So taking a look at the number of servers owned by NordVPN could help you predict the slowdowns you'll face since the more servers they own, the less congested they'll be.
Owning multiple servers means users will be distributed between more servers, so users won't have to share the same server simultaneously. So NordVPN can guarantee each server is providing the best performance while you browse the internet. This way, you won't experience a drop in your internet speed.
NordVPN owns 5263 servers distributed in 60 countries, which means you've got a few thousand options to hide your location. The closer a server is, the faster it is, so the likelihood of having a server near you is more significant with the vast number of servers.
The bulk of NordVPNs servers are in the United States and the United Kingdom, but there are others put on different continents. For example, they have some covered in South America, Asia, Europe, and the Middle East.
NordVPN has servers in countries that have restrictive internet laws like Vietnam, Turkey, and Hong Kong. Connecting to one of these servers doesn't mean you'll be able to bypass the firewall, but if you are traveling to the country or are living in it, then NordVPN can give you limited privacy. Plus they offer obfuscated servers; this is designed to bypass firewalls.
NordVPN is supported on several devices, including iOS, Windows, Android, and Amazon Fire TV. They also have browser extensions for Firefox and Chrome.
When using the NordVPN app on a mobile device, you don't get the option to pick a specific server within a country; they will automatically do it for you depending on which one they choose is the fastest.
Protocols
WireGuard is the new big thing in the world of protocols, and NordVPN took full advantage of it. This protocol was designed to improve browsing speed without compromising its security. They changed the name to NordLynx and is currently the protocol recommended if you want to download files or stream content. The downloading speed with NordLynx could go over 1.5 Gbps.
L2TP/IPsec and PPTP were protocols that were available on NordVPN because it doesn't affect the speed as much as other protocols. This protocol was later removed when it was proved to be no longer secure. This is further evidence that they always have your security in mind even if it affects their speed performance.
NordVPN also supports OpenVPN and ikeV2/IPsec, and they are military-grade encryptions. Which means they are the most secure protocols. They are slower than NordLynx but they are versatile and use strong encryptions.
You will notice a drop in your speed when using these protocols, but it is worth it for the extra layer of security.
It is worth mentioning that NordVPN has won awards for being one of the fastest VPN service providers.
Below is a quick comparison between the three protocols.
Protocols
IKEv2/IPsec
OpenVPN
NordLynx
Platform
All platforms (default for macOS and iOS)
All platforms
All platforms (used by default in most NordVPN apps)
Security
IPsec encryption
AES encryption (most secure)
ChaCha20 for symmetric encryption with poly1305 for message authentication
Firewall
UDP ports 500 and 4500, and ESP IP Protocol 50
Uses 443 port (hard to block)
The port can be freely selected from the high ports
range. If no port is specified, it uses 51820/UDP
Speed
Generally fast (faster than OpenVPN)
The slowest
Fastest available
Privacy and security are the number one reason why people go for VPNs.
If you spend most of the time home, you are probably not too concerned about your internet safety because it is a secure network, after all. But think of your internet provider they have access to everything you do online and are legally allowed to gather, analyze and sell your personal data.
This level of suspicion should be directed towards your VPN providers. They have the same insight into your web activities as your internet provider does. They have the ability to access every bit of information that goes through their system and have the ability to track you down personally and identify all the illegal or legal activities you are on to. This means you need a trusted VPN provider with a good reputation. NordVPN has proved itself to be trustworthy.
5/9/14 Eyes Alliance
NordVPNs jurisdiction is in Panama, which means it is outside of the 5/9/14 Eyes Alliance—giving them a legal advantage if they want to protect their users' privacy from anyone looking to collect their internet traffic and identify it back to them.
The alliance is a collective agreement that obligates the 14 countries to share any information between them. The Eyes Alliance consists of the US, UK, Australia, Canada, New Zealand, Denmark, Netherlands, France, Norway, Germany, Belgium, Spain, Sweden, and Italy. So a VPN service provider is in a risky situation if they are based in one of those countries, making Panama, with their no policy on data collection, a perfect place to base their business in,
NordVPN has a no-log policy, so they do not collect or log any information that goes through their networks. They do not save any personal information, what you search for, and what you download. So you are protected from everybody, even your VPN service provider.
NordVPN has been audited on its no-log policy. This was done by PwC, a swiss company, to guarantee their customers that they are sticking to their policy. They were last audited in 2020, and no evidence was found of them keeping records. The only data monitored by them was their server's performance which helps improve connections and the email you used when you signed up.
Other features
NordVPN also offers "Speciality servers." For example, there is a "Double VPN" feature that provides you with extra security by routing all your traffic through two servers, which gives you an extra layer of security. An exciting feature is the "Obfuscated" to bypasses firewall restrictions, making it a great tool to break through countries with restricted access.
"Onion over VPN" is a feature that allows your connection to pass through one of the NordVPN servers, then routes it to the Onion network before it gets to the internet. You could do this without opening a separate browser.
You can also purchase an IP address, which is separate from the subscription fees, this will activate the dedicated IP address feature.
Another feature is the CyberSec. This feature protects your identity and data online by blocking ads, pop-ups, and suspicious sites that try to steal your data or insert malware on your computer.
NordVPNs prices are on par with all the features, security, and speed they offer.
The table below details the pricing as of September 2021:
| Plans | 1-month plan | 1-year plan | 2-year plan |
| --- | --- | --- | --- |
| Original price | $11.95/month | $143.40 | $286.80 |
| Discount price | N/A | $59.00 ($4.92/month) | $99.00 ($4.13/month) |
NordVPN accepts several payment methods such as:
Credit card
Direct debit
Alipay
Cryptocurrency (Bitcoin, Ethereum, Ripple)
Amazon Pay
Google Pay
Now that you've got a recap on NordVPN, let's get down to the steps on getting a free NordVPN trial.
Free NordVPN trial is only available for Android users and this is under the NordVPN 7 day trial, but there is a way everyone could benefit and get a free NordVPN, and that is through their 30-day-money-back-guarantee.
This deal gives beat the trial as you get access to everything NordVPN has to offer with all the features with no restrictions to make sure this is the right VPN for you, they also give you sufficient time instead of just giving you a few days they offer a whole month. There is no commitment; all you have to do is cancel your subscription before the month ends and request a refund. No questions asked.
All it takes to get NordVPN free trial is:

1. Download Nord VPN and create an account.
2. Start connecting to the servers you want.
3. Cancel your subscription and request a refund.
Free NordVPN trial:
1. Go to the NordVPNs website, and click on the "Start Now" button. Pressing the pink button will take you to the subscription page.

2. Pick one of the three subscription plans offered and choose "Continue to Payment."
3. Add an email address, choose a payment method and fill in the details.
4. Check your email, and download Nord VPN app.

5."Set Password and Activate Account" button will lead you to activate your NordVPN, then press "Download"
6. Once the app is installed put in your credentials.

7. Look for the server you want, or you can let the app chose the best server for you by pressing the "Quick Connect" button.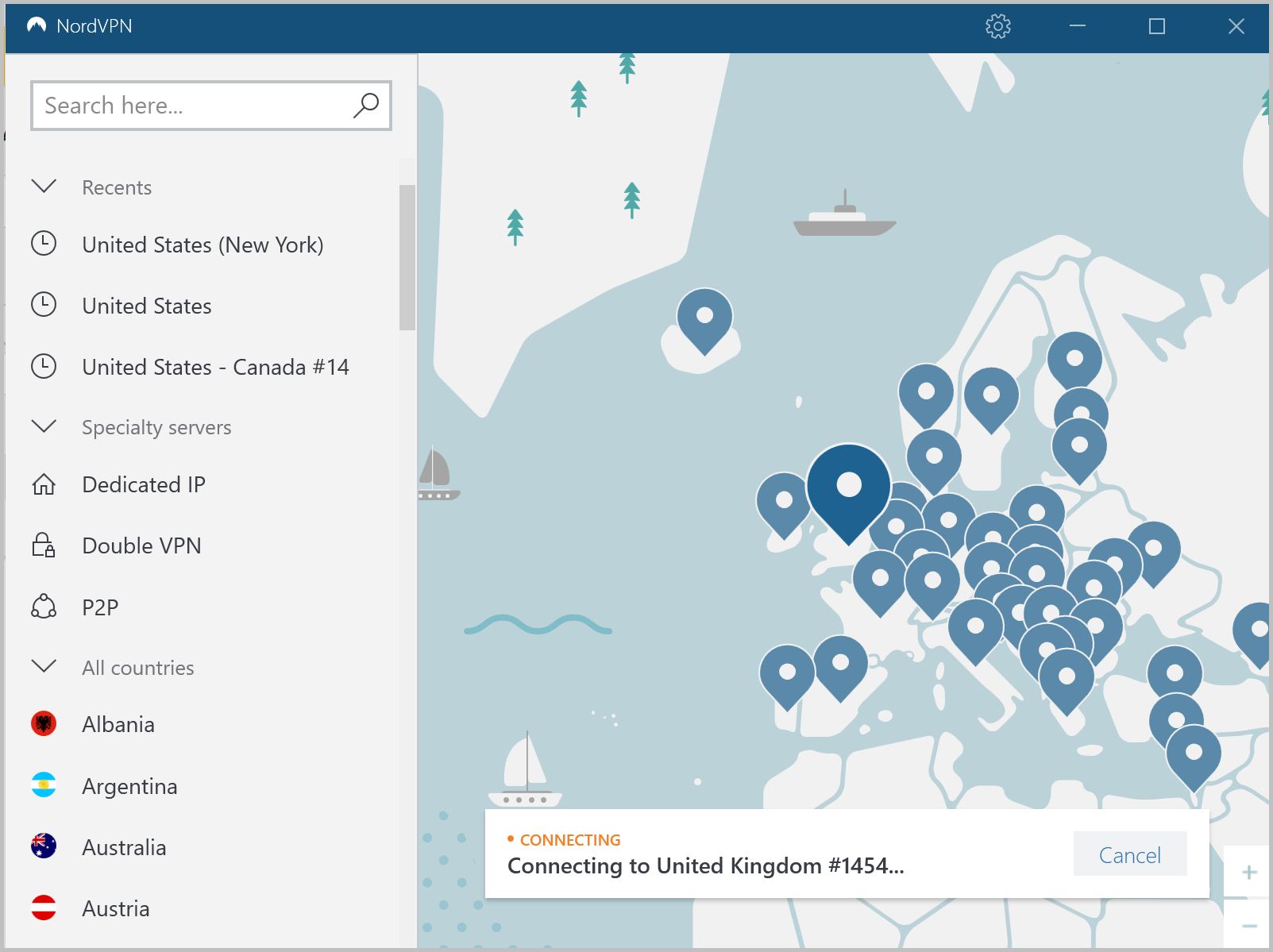 8. If you chose to cancel your subscription, go to the "Contact us" page and choose the "Live Chat". Request a refund and it will direct to customer support where you speak to a live agent where you can claim your refund.
That's it! With these quick steps, you have tried a free NordVPN trial.